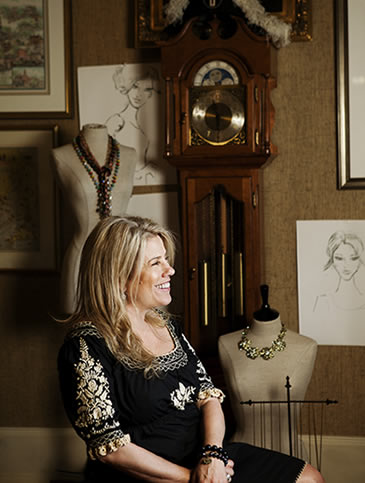 Saint Vintage Founder and two-time cancer Survivor Paige Jansen-Nichols works tirelessly with her team to fund cancer research. Given a 20% chance of survival and more than one cancer diagnosis, she began blazing her fashionable and philanthropic trail in 2007. She has channeled her insistence for a cure for cancer and compassion for others into an eco-friendly luxury brand that gives back to cancer research.
Paige believes in recycling the past to help improve the future. Her desire is to unite our philanthropic spirit with our love of art, fashion and history with a company that truly cares.
The Saint Vintage jewelry collections are historically inspired. The antiquity and detail of every bead, charm, clasp and gem have been curated with the intention that someone will wear the piece and remember to live and love every day. After all, you could be wearing the piece that funds research for the cure to cancer.
Saint Vintage lives in the angelic nature of giving back. Join Paige and Saint Vintage in our fight for a cure for cancer.

"THE POWER OF ONE WOMAN CAN HEAL THE HEARTS OF MANY." - Paige Jansen-Nichols
We all love someone who has been affected by cancer and for Saint Vintage, finding a cure is our mission and source of greatest inspiration. We have partnered with both local and national cancer awareness and prevention organizations to give back directly to make the biggest impact, including Stand Up 2 Cancer, Cure Childhood Cancer and Angel 34. In the spirit of this cooperative effort Saint Vintage ensures that up to 50% of all sales goes directly to fund research for a cure. Join us on our mission. At Saint Vintage we truly mean, jewelry for a cure.
#findacure #jewelryforacause #jewelryforacure
"
WE MAKE A LIVING BY WHAT WE GET, WE MAKE A LIFE BY WHAT WE GIVE.
" -Sir Winston Churchill